Target profile and scoring used for Texas DPS CHL Classes.
Approximate size of torso: 20" X 30" (!!!)
Scroll to bottom of page for additional information.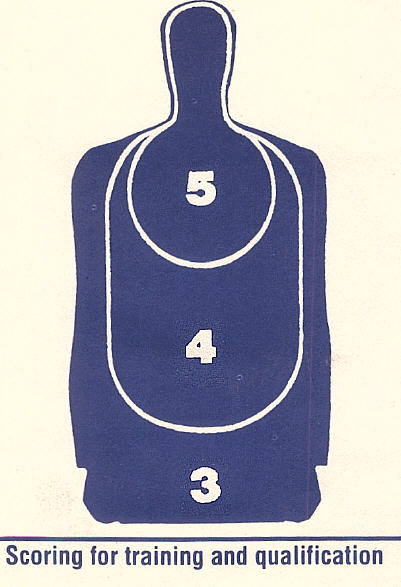 The "demonstration of proficiency" requires a total of 50 rounds.
The first 20 rounds are fired from a distance of 3 yards. (Yes, you read it right.) The next 20 rounds are fired from range of 7 yards. The last 10 rounds are fired from a range of 15 yards.
A perfect score is 250 points. A minimum score of 175 is required for a "pass".
The shooting test is strictly "pass" or "fail" and that is the only score provided on Form TR-100.
At instructor's discretion, students can have up to 3 opportunities to "pass".
Students are given ample time to load between each series and start from the "low ready" position.
At DCSA, the lights above the target are used for "fire" and "cease fire" signals. Each series begins with the target in the dark and then target is illuminated for x-number of seconds as signal to "fire".
The specific number of rounds and amount of time allowed for each series is posted on the north wall of the DCSA firing room. It can be seen during most "Open House" periods and is frequently used by "Freedom Plan" shooters for "practice runs".
Effective January 1, 2006, after 10 years in service, the blue "Amazon Man" target shown above will be replaced with a standard B-27 target, including a more "center of mass" X-ring and scoring system similar to that described above. B-27 target is pictured about 1/2 way down on "Retail Sales" page.
Instructor will cover additional information in more detail during class and/or range session.